One of the hallmarks of a college Music program is the study of Applied Music,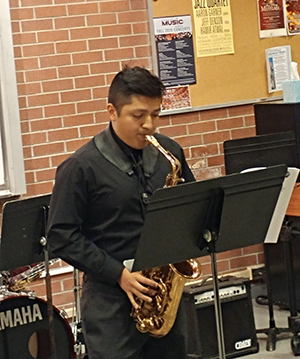 where each student studies their primary instrument directly wit
h a professional performer/instructor of that instrument. SRJC's Applied Music Program offers the opportunity to study with top-notch Bay Area musicians as well numerous opportunities for recital performance. We prepare transfer-track Music majors for entrance auditions to four-year Music programs, scholarship auditions, and competitions.
Students meet regularly with an expert instructor to study technique and college-level repertoire. The course also includes a weekly Friday recital class wherein students perform, hear master classes, and learn stage deportment and performance critique. Students in the program are required to perform in recitals each semester, and to document a minimum of 5 hours per week of on-campus practice. The final exam is a graded performance for a jury of the Music faculty.
Applied Music students are required to be enrolled in an SRJC performing ensemble (Concert Choir, Chamber Singers, Symphonic Band, Orchestra, Jazz Band, and/or Jazz Combos).
The Applied Music Program requires a qualifying audition for entrance. Auditions are held on the first Friday of each semester. See the Auditions page for more information.
---
For more information, contact Dr. Mark Anderman [manderman@santarosa.edu|profile].