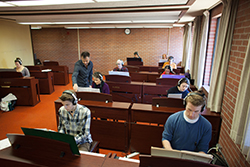 SRJC has a vibrant program in Class Piano that develops technique, music reading skills, knowledge of keyboard harmony and theory, sound practice habits, classical repertory, and solo and ensemble performance. These courses are essential for Music majors, but can also be taken for personal enrichment, pleasure, and the development of skills for beginning to professional musicians. Music Theory students find that concurrent piano study complements and enhances their understanding of theory.
The Class Piano curriculum is carefully sequenced within each course and through the series of courses.
MUSCP 11A Class Piano 1
MUSCP 11B Class Piano 2
MUSCP 11C Class Piano 3
MUSCP 11D Class Piano 4
Classes are held in the electronic piano lab in Forsyth Hall on the Santa Rosa Campus that is also equipped with a Steinway grand piano. In addition, registered Music students have access to 13 individual practice rooms in Forsyth Hall, each equipped with an upright acoustic piano or electronic piano.
---
For more information, contact Dr. Rudolf Budginas: [rbudginas@santarosa.edu|profile]