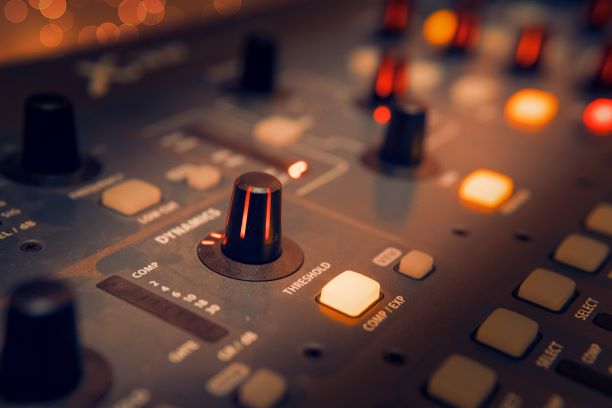 The Digital Audio program at SRJC is an integral part of the interdisciplinary Digital Media program. SRJC currently offers an Associate in Arts degree or Certificate in Digital Media: Audio.
This program provides students with training in audio theory, MIDI sequencing, sound synthesis, recording, digital and analog audio technology, basic music theory, sound design for multimedia applications (including video games for educational and/or entertainment purposes), and the delivery of audio content over broadcast media including radio, television, and the Internet. Students will employ industry-standard hardware and software to create, record, store, edit, and master audio content for various multimedia applications. Upon completion of the Digital Audio curriculum, Audio students will collaborate with other Digital Media students on a capstone project by integrating music and audio into student-designed interactive media applications.
The Digital Audio facilities at SRJC include a state-of-the-art studio based around an Avid Pro Tools C|24 recording console (with Pro Tools HD); and a student lab equipped with Pro Tools 10, Native Instruments Komplete, and Propellerhead Reason software. The college also maintains a wide array of professional-quality industry-standard microphones.
The explosive development of multimedia and online audio has created numerous occupations built around the utilization of platform-specific tools for both linear and nonlinear audio production. Graduates of the Digital Media: Audio program will be prepared for entry-level positions in audio engineering, sound design, audio-for-video post-production, broadcasting, and CD/DVD mastering. Potential long-term career paths include Sound Designer, Audio Engineer, Record Producer, Post-Production Mixer/Editor, and Sound Effects/Dialog Editor.
---
For further questions about the Digital Audio program, contact Dr. Rudolf Budginas: [rbudginas@santarosa.edu|profile]