Whether you are an experienced chorister, a lead singer in the band, or a crooner in the shower, SRJC has the right voice class for you.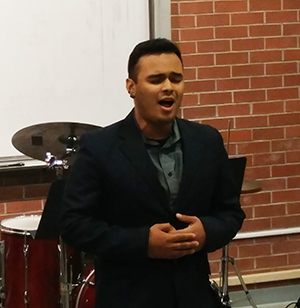 SRJC has a rich tradition in choral music, which currently includes our Concert Choir and Chamber Singers. Additional courses are available in vocal technique and diction. Applied Voice (private instruction) is available for students intending to major in music.
NOVICE
Elementary Voice   (MUSCP 17A)       
No audition necessary. This course is designed to give you a thorough basis of healthy singing technique. The course will cover a range of styles of vocal music, including folksong and traditional ballad, English and foreign language art song, and Musical Theatre. Topics include tone production, breath control, diction, and interpretation of musical notation. While open to all students, prior singing experience and the ability to read music is recommended. This course is repeatable for up to two semesters. (CSU/UC)
EXPERIENCED
Intermediate Voice   (MUSCP 17B)
Audition required. This is a program of study designed for the serious vocal student. The class will be devoted to the study and practice of vocal techniques and practical applications of vocal skills within the preparation and performance of standard college-level repertoire. Classes will also include demonstrations and practice of vocal exercises designed for the development of technical skill. Each semester focuses on the study of classical repertoire in a particular language. The course is closely tied to MUSCP 18 Diction for Singers where students learn proper pronunciations and vowel modifications for the languages of the repertoire examined in this class. This course is repeatable for up to two semesters. (CSU/UC)
---
Diction and Repertoire for Singers   (MUSC 18.1 - 18.4)
Audition required (conducted in class). This course is devoted to the study and practice of language preparation and performance in standard college-level vocal repertoire. Each semester focuses on repertoire in one of the following four languages: Italian, French, German, and English. Students are introduced to the International Phonetic Alphabet and correct language pronunciation. Further study into foreign language translation of assigned repertoire helps the student develop a depth of individual artistic character. (CSU/UC) 
CHORAL
CONCERT CHOIR   (MUSCP 21A–D)
Jody Benecke, Director
Audition required.  Concert Choir meets Mondays and Wednesdays from 12-1:15.  Students should be familiar with the choral experience and should be able to match pitch and learn and perform vocal parts in an SATB ensemble. Some students who are accepted are not strong music readers, but the first weeks of class are spent on music reading exercises, allowing students to learn and/or polish this skill. Most students who meet these expectations will be able to pass the audition for Concert Choir.
---
CHAMBER SINGERS   (MUSCP 23A–D)
Jody Benecke, Director
Audition required.  Chamber Singers meet Mondays and Wednesdays from 1:30 – 2:45.  This is a select (more advanced) ensemble of experienced choral singers, many of whom are voice majors.  Members of Chamber Singers are expected to co-enroll in Concert Choir, with some exceptions at the discretion of the director. Non-majors are welcome, but the time commitment to both Concert Choir and Chamber Singers is expected (MW 12:00 – 2:45 with a 15-minutes break between classes).
Students who wish to audition for this ensemble must be capable music readers and should enroll only upon instructor approval.  Those interested in enrolling in Chamber Singers should attend the Concert Choir class at 12:00 p.m. on the first day of classes.  
---
For more information, contact Jody Benecke [jbenecke@santarosa.edu|707.527.4665]